---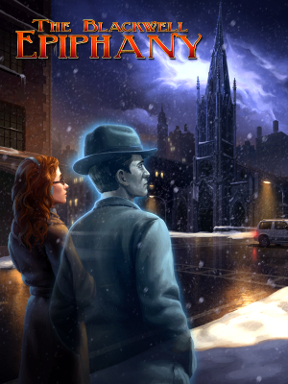 The Blackwell Epiphany
Rating: N/A - Rating Not Applicable

Disclaimer - I love these guys. The story is quirky and clever. Joey, a ghost, and Rosa the Bestower work as a pair to bring souls that are trapped on earth, after the person has died, into the "light". Strangely, it doesn't feel religious. The stories revolve around leading the souls to resolve the problems that wouldn't allow them to accept that the person is dead. This material and immaterial team, with their different talents work to solve these human mini-mysteries.
This story is supported with many ancillary treats that make the game engaging. The music – great sax riffs, bluesy jazz piano that pulls you into the game mood, all original. Dialog and voice – as good as a Bogart movie and each character is individually voiced. The design and graphics - sooo clever in how economically the graphics are done and how you are hit with the realization that you don't need fancy graphics to capture an audience. The characters are seriously 2D; Joey the dapper sarcastic ghost sporting his 30's fedora and hands in his pockets is transparent, glides not walks and is most often seen in profile. Rosa, the sorely-tried medium has more color and substance. Scenes are rendered with more detail than the characters that move through them. The setting is New York City and the sites so capture the city that you can almost name the street. Of course you have to be a New Yorker. Everything is so generous for this game.
This is the fifth and last episode and the longest. Trouble starts almost immediately. Some force is destroying the souls before they can reach the light. And so as the series winds down the tempo becomes faster, as this duo must not only save souls but save the world. I played it with the realization that this would be the last I would experience the banter between Joey and Rosa and their strange affection for one another. So ... Dave Gilbert has put his baby to rest – hopefully his talents will shine in other games.
I have been enjoying the Blackwell episodes for almost 7 years. To really appreciate this game – don't start with the end but buy the whole game package at a pittance and see why so many of us got hooked.

Fun Factor: Loved the dialog, the sparring between the characters and the original story
Female Factor: Rosa holds her own and more in the duo
Player Friendly: This indy game is crash free.
Reviewed by: Editor - Apr/14
The Blackwell Epiphany
&copy Wadjet Eye Games
Platform(s): W7 Vista XP OSX
Game Site: Win Wadjet Eye Games/ $14.99
To Order: Win Steam $14.99