---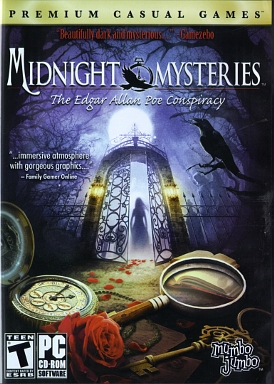 Midnight Mysteries - The Edgar Allen Poe Conspiracy
Rating: T - Teen

Another one of Mumbo Jumbo's Premium games, this time a seek-and-find adventure. In this case, the simple seek-and-find has been embellished with a story, actually three stories centered around Edgar Allan Poe's death and looking for clues in three of his stories - The Mystery of Marie Roget, The Gold Bug and The Purloined Letter.
The main story is that of Marie Roget, a beautiful sales girl who was murdered. The story moves from Paris to New York (where the murder actually occurred). The sets are detailed and gorgeous, the items to find are almost always relevant to the story. There are plenty of graveyard and crypt scenes to satisfy Poe's reputation for the macabre. I like the idea of bringing in some classic literature into the games. Actually had me going back and reading the one about Marie Roget. Help is done by clicking on the raven with the glittering eye on the right of the screen. If you ask for help too often, a scurvy cat chases the raven away. Nice.
The game is about four movies worth. I would have been happy with just the one story, but Mumbo Jumbo put in three - but then it's a Premium game.

Fun Factor: Very enjoyable
Female Factor: Not unless you count the victim
Player Friendly: Excellent help system
Reviewed by: Editor - Sep/10
Midnight Mysteries - The Edgar Allen Poe Conspiracy
&copy Mumbo Jumbo
Platform(s): W7 Vista XP
To Order: Win http://www.amazon.com/ $19.99