---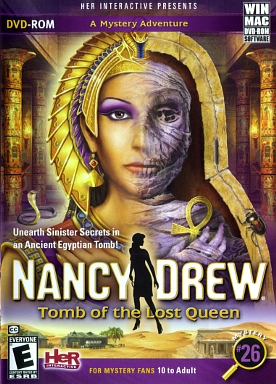 Nancy Drew: Tomb of the Lost Queen
Rating: E - Everyone

I have followed along with Nancy from her first episode – where she carried a GUN through haunted mansions; a theater; a couple of tropical islands; the archaeological wing of a museum; through dining and sleeping cars of a custom train; gondolas in Venice; a ryokan in Tokyo; an elegant spa; scuba diving to explore sunken ships and hunting tornadoes. It's been a busy fun time. Just when I was wondering where else Nan would take me. Yea! Egypt. I have always wanted to explore tombs.
Here, Nancy is attached to an expedition excavating a tomb. She is working as an assistant to the lead anthropologist injured during a mysterious sand storm. Other participants in the dig seem to be holding out information and so Nan must do deep level snooping.
The graphics are splendid – halls, rooms walls and ceilings are covered with Egyptian art and hieroglyphics. Puzzling out the hieroglyphics, the player in the more advanced level is given many tools and dictionaries. For the junior detective, just placing the dictionary icon against the hieroglyphics will decode them. Either way – a wonderful experience. The puzzles all closely related to the time and art. Probably the high point of the game is the finding and opening the burial chamber. Not every day do you get to be Howard Carter.
The Drew mysteries have evolved – graphic are better, ancillary characters more fleshed out, some shortcuts are appreciated but from the beginning – the stories, the complexity of the layouts and Nan 's voice remain good as gold.

Fun Factor: Great adventure, lots of exploring
Female Factor: This time the tomb is a Queen's
Player Friendly: Senior and Junior detective allows for range of players abilities.
Reviewed by: Editor - Jun/12
Nancy Drew: Tomb of the Lost Queen
&copy Her Interactive
Platform(s): W7 OSX
To Order: WinMac http://www.amazon.com/ $19.99
To Order: MacWin http://www.amazon.com/ $19.99
Game Site: http://www.herinteractive.com/