---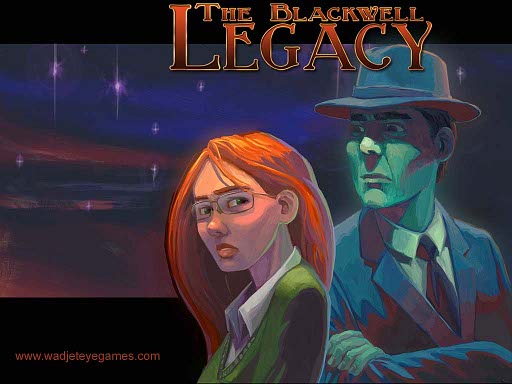 The Blackwell Mystery Game Series
Rating: NR - Not Rated

Video games are made up of standard components - graphics, animation, story, music, voice acting, game mechanics. Assuming that the mechanics are down pat, most of us have a preference for one or another of the various components - good story, excellent graphics. Recently I have played two games that are noticeably strong in one or the other elements; The Undergarden, which has basically no story but incredible graphics, and The Blackwell Mystery Game Series - which stands out by its excellent voice acting. I realized how spellbinding the old radio stories were.
The tale begins with a woman tossing her aunt's ashes off a bridge into the East river. Upon returning to her apartment she is greeted by a dapper but sardonic ghost who informs her that she is, as her aunt was, a spirit medium, and with the passing of her aunt she has now inherited him - and a mission. The mission is to assist unhappy ghosts that are wandering the city to move on to the beyond. The dialog between Joey Mallone the ghost, and Rosa is amusing as one may expect from an experienced ghost-talker with a Bogart attitude and an unwilling and vexed New Yorker. And so we are introduced to unusual characters and unusual plot.
The graphics - are intentionally pixellated, giving the game a retro look, a cost saving choice made by this indie company. But the variety and voice acting carries you beyond the graphics. And when the characters are not talking - the background jazz is exceptional. The setting is New York, and the designers accurately used locations - the Brooklyn bridge, the Village and Minetta tavern, Central Park, bring joy to anyone who's lived in Manhattan.
These guys are good - really good and I hope there is more to come from Vitamin G and Wadjet Eye Games. It is truly a labor of love. This is not a new game - but there seems to be many gems hiding out there - hopeful we'll keep finding them.
The Blackwell Mystery Game Series develops over three games: The Blackwell Legacy, Blackwell Unbound and The Blackwell Convergence. All three game episodes can be downloaded and purchased as a bundle for $19.99 from wadjeteyegames.com

Fun Factor: Unusual absorbing story well told
Female Factor: Rosa holds her own against a ghost.
Player Friendly: No technical problems
Reviewed by: Editor - Jan/11
The Blackwell Mystery Game Series
&copy Wadjet Eye Games
Platform(s): W7 Vista XP
To Order: Win http://wadjeteyegames.com $19.99