---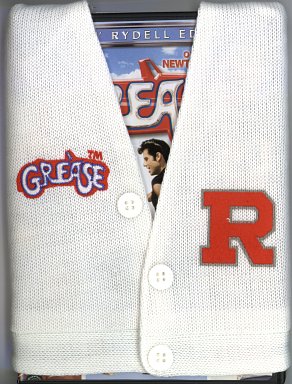 Grease
Ages: General Audience

Up and down and up and down again, the high-school romance between John Travolta and Olivia Newton-John is an early classic of teen-age angst about love, sex, and what happens after the precipice of graduation. All this is embellished with songs that once you hear again you will realize that you never forgot: "Look at me, I'm Sandra De", "Greased Lightning", "Hopelessly Devoted to You", "Sandy, "You're the One That I Want". Remember the Pink Ladies - hardly PC even back in 1978? Rizzo's scare after unprotected sex and Frankie Avalon encouraging Frenchy to go back to school with "Beauty School Dropout". All serious under the songs.
This Rydell edition, recognizable with its lettermen's "R" mini-sweater (suitable for dolls without arms), does not contain any new bonus features but the disk is packed with additional scenes, a directors commentary and a Rydell Sing-Along. The cast also includes Stockard Channing (Rizzo) and Eve Arden ( the principal) and takes place in Venice HS in Venice CA. If you are 30 now - you were just born when it came out. You know what time does when you are having fun.

Fun Factor: A trip back to the '70s when cigarettes were considered cool.
Female Factor: Thirty years have made a difference
Reviewed by: Editor - 09/08
Grease
&copy Paramount Home Entertainment
Platform(s): DVD
To Order: DVD http://www.amazon.com/ $13.43
---
NOTICE
Unless otherwise indicated, games, movies, books or other products which are reviewed or mentioned on this site have been given to us by the respective authors, publishers, distributors or their public relations representitives.
Alphabetical list of all reviewed games
Reviews - Computer Based Games
Reviews - Console Games
Reviews - Multi-Player Games
Reviews - Mobile and Casual Games
Reviews - Software and Toys
Coming Soon
Oldies and Goodies
Reviews - Movies and DVDs
---


Games4Women is produced by Metron Studios, a division of Metron Computerware, Ltd., Oakland, CA
Copyright © 2001-2007 Metron Studios

Web presence by Metron Studios
20070729