---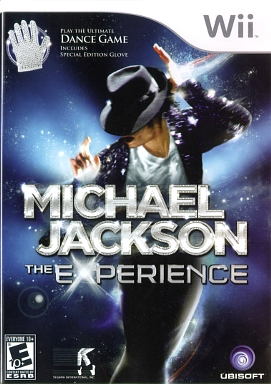 Michael Jackson: The Experience
Rating: E-10+ - Everyone 10+

It is impossible not to dance to Michael Jackson. This game gives you the opportunity to dance along with the iconic star. But Jackson's moves are not simple rhythmic dance steps - he hesitates, holds a pose, changes tempo - this is what you have to emulate if you want a perfect score. It's not impossible - but it's challenging and different from other dance games like Just Dance 2. Routines are performed with a visual representation of Michael, sometimes back up dancers, and lyrics to each song - sing along if want to. Flashes indicating how you are doing appear continuously. The range of songs are from the 80s through the early 2000s. Of course "Beat It" and "Billy Jean" are first ones I tried and didn't do too badly when I realized that I had to hold the pose when Jackson did.
The Wii takes up to four players and uses only the remote. Tempo ranges from slow to fast and from Easy to Hard. To get lessons from the Jackson Academy, you have to earn points to unlock it. I thought that was strange - to get dance lessons only after you danced enough to earn 10 points. But maybe it was to get you moving sooner. Whatever - Michael Jackson is impossible to resist - he was so good.
| | |
| --- | --- |
| • Bad | • Beat It |
| • Billie Jean | • Black or White |
| • Dirty Diana | • Don't Stop 'Til You Get Enough |
| • Earth Song | • Ghosts |
| • Heal the World | • In The Closet |
| • Leave Me Alone | • Money |
| • Remember the Time | • Rock with You Night |
Oh, and the game includes a glittering white glove.

Fun Factor: A blast
Female Factor: Zip
Player Friendly: Good motion trackiing
Reviewed by: Editor - Dec/10
Michael Jackson: The Experience
&copy Ubisoft.
Platform(s): Wii
To Order: WII http://www.amazon.com/ $49.99