---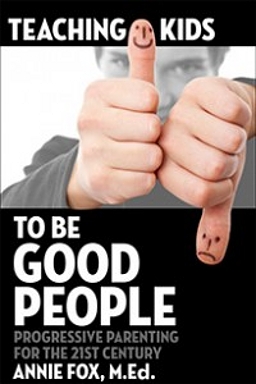 Teaching Kids to be Good People; Progressive Parenting for the 21st Century
Rating: N/A - Rating Not Applicable

Annie Fox has been writing about teenagers since she has been one. Here is another one of her insightful books. It looks like a book but it is anything but. It is a WORKBOOK – which means that it is filled with questions, answers, essays, self-assessment quizzes. Wanting our kids to grow up to be good people is more than being a good example. Annie has tips and exercises – you won't get away with sitting back, kicking up your heels and simply reading. As in her previous books, Anne tends to meet you – first-person and so her suggestions and stories are very personal - and not without a full measure of humor. One that cracked me up was her answer to a father whose daughter was behaving less than welcoming to the new baby.She asked him to imagine how his first wife would take to being told that there would be less time for her because he has to spend more time with the new wife, that the house had to be quiet so that the new wife could get her sleep and furthermore, she was expected to share her things with the newcomer. Point made! Way to go, Annie!
I read the book on the Kindle. This is not the optimum way to go though the book. As a workbook you are constantly going back and forth, sharihng it with others. Annie's answers are in the back and you will be wanting to make notes. Buy the paper copy.
Reviewed by: Editor - Dec/12
Teaching Kids to be Good People; Progressive Parenting for the 21st Century
Author: Annie Fox
&copy CreateSpace Independent Publishing Platform
Platform(s): Printed Book
To Order: Paperback Book http://www.amazon.com/ $14.49
To Order: Kindle Book http://www.amazon.com/ $9.99
---
NOTICE
Unless otherwise indicated, games, movies, books or other products which are reviewed or mentioned on this site have been given to us by the respective authors, publishers, distributors or their public relations representitives.
Alphabetical list of all reviewed games
Reviews - Computer Based Games
Reviews - Console Games
Reviews - Multi-Player Games
Reviews - Mobile and Casual Games
Reviews - Software and Toys
Coming Soon
Oldies and Goodies
Reviews - Movies and DVDs
---


Games4Women is produced by Metron Studios, a division of Metron Computerware, Ltd., Oakland, CA
Copyright © 2001-2007 Metron Studios

Web presence by Metron Studios
20070729