---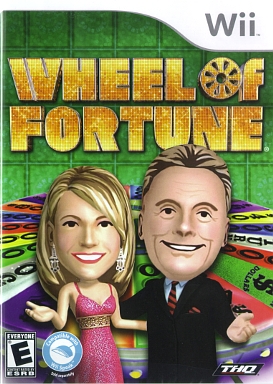 Wheel of Fortune
Rating: E - Everyone

Do you prefer vanilla or chocolate? And that's about the way it is in making a choice between Wheel of Fortune and Jeopardy!. There's much to be said for the clickty clack of the fortune wheel as it winds down - a nifty substitute for roulette even if it's only for letters.
The bubbleheads come swishing onto the stage - Vanna White in her evening dress accompanied by Pat Sajak. The use of real voices makes a great deal of difference in making the game feel real. The wedges are all there - bankrupt, lose a turn, free play and the $1000 one. There are prizes and cash and even though players don't get a whiff of the Hawaiian vacation package - it does count towards dollar points for high score.
Game design for both games are essentially identical. Instructions are given throughout the game, Miis will respond with ecstasy or anguish, the audience reacts with enthusiastic applause and Pat is calm whether you win or lose. Questions are tailored to difficulty level. Easy, Medium and Hard ramp up to more complex questions with shorter time limits. There are a lot of amusing touches, station breaks that bring in mini games, if you have Wii Speak (sold separately) connected you can call out your answers, even recording your own happy or sad response to clues. The game uses only the remote, and good in-game instructions and excellent manual makes it playable even for those who have never seen the show.
Hard to believe that Vana White and Pat Sajak starred in the show as far back as 1983 (credit to Wikipedia). Perhaps that is why $1000 doesn't seem to be as much money today.

Fun Factor: Big bang for the buck
Female Factor: Vanna is still trukin'
Player Friendly: Good instructions
Reviewed by: Editor - Dec/10
Wheel of Fortune
&copy THQ
Platform(s): Wii
To Order: WII http://www.amazon.com/ $29.99