---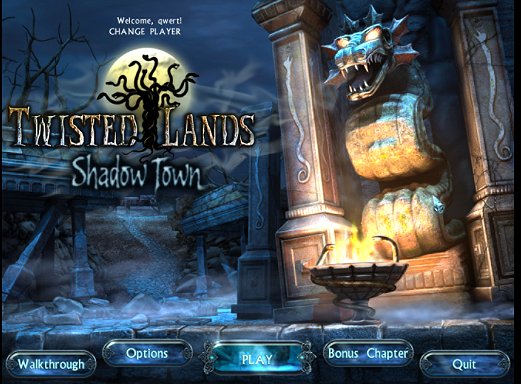 Twisted Lands: Shadow Town
Rating: NR - Not Rated

There's more than a town here - there is an abandoned cruise ship with ghosts lurking, a voodoo temple guarded by fourteen snakes and enough subplots to make for three other games. So many subplots that not everything is neatly tied up by the end - including the end itself.
The hints for finding hidden objects are good and the hints for knowing where to go are even better and novel - a picture of the place to go to flashes on the screen.
The story begins with a man and a woman - adventurous treasure hunters headed to an island in a small boat, when an artifact on board causes a catastrophe, and we see the man thrown into the ocean while the boat cracks up on the island. The survivor rummages through the debris and starts looking for Angel. Herein lies one of the confusing bits; I had to wait almost until the end to find out that Angel is the woman in the boat and that the man who fell overboard (you) did not drown.
Once on the island, you realize that you are not alone - a camp fire is burning, ghosts appear bringing memories, messages are left, entry to a hidden temple beckons. This is just the beginning - you have yet to experience the town with the church and the mansion with its sad secrets; the jail, the forest with the trees hiding messages, the lighthouse, fishing cabin and the cruise ship - abandoned - seemingly in mid-life.
The seek and find objects are often scrambled in what looks to be a junk pile - as opposed to items relating to the game and to the scene as in Midnight Mysteries: The Edgar Allen Poe Conspiracy. Help to find objects is provided by a mirror - which cracks upon frequent use and heals in about a minute. When you need more than to find a single item - help will flash a scene showing where you have to go to find the next object. Of the many objects you find in a scene - one will be retained that will be necessary for the next step.
This game was described as a horror genre that might even require an M rating. I was particularly interested in how casual games might transform into core-like games. I admit that horror (and humor) are hard to do. This game wasn't scary - it was more poignant than scary in the telling about the demise of some of the characters. The only tense part is the zombies banging and rattling at the door and windows, trying to get in while you are trying to get help. It is related mostly to the sound - not as much as to the visuals.
As I said, the ending is obscure, but as the Cunard Steamship Line said, "Getting there is half the fun".
Purchase/download $13.99 bigfishgames.com and alawar.com.

Fun Factor: Enjoyable deep mystery. Excellent help.
Reviewed by: Editor - Sep/10
Twisted Lands: Shadow Town
&copy Alawar
Platform(s): W7 Vista XP