---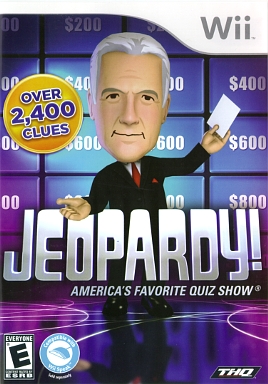 Jeopardy!
Rating: E - Everyone

THQ simultaneously released two game show products, Wheel of Fortune and Jeopardy!. My informal survey to determine which of the two was the favorite came to a draw, but there were strong likes.
THQ has made a perfect simulacrum of the show which will please fans no end. As soon as dulcet voiced Alex Trebek walks on-stage in front of the ceiling high wall with hundreds of dollars in prizes the excitement begins. First off - don't play this game by yourself although you can choose to compete against the computer. Get two friends to join you, set all the Miis in the contestants booth and go for it.
Instructions are given throughout the game. Miis will respond with ecstasy or anguish, the audience reacts with enthusiastic applause and Alex is appropriately solicitous whether you win or lose. Reponses are tailored to difficulty level. In Easy, players are given three multiple choices; Medium requires the player to type in the first three letters of the correct response to activate the auto-complete menu; Hard requires players to type in, the first five letters. There are a lot of amusing touches, station breaks that bring in mini games, if you have Wii Speak (sold separately) connected you can call out your answers, even recording your own happy or sad response to clues. The game uses only the remote and good in-game instructions and excellent manual makes it playable even for those who have never seen the show.
If you like the show, you will get a kick out of "being there".

Fun Factor: A big bang for the buck
Female Factor: Up to your Miis
Player Friendly: Good instructions
Reviewed by: Editor - Dec/10
Jeopardy!
&copy THQ
Platform(s): Wii
To Order: WII http://www.amazon.com/ $28.99